WHAT ARE THE TABOOS WHEN USING STAINLESS STEEL TABLEWARE?
Stainless steel is made from iron, chromium, nickel alloy and mixed with trace elements such as molybdenum, titanium, cobalt and manganese.Its metal performance is good, made of utensils beautiful and durable.However, if the stainless steel kitchenware is not used properly, the heavy metal element can accumulate slowly in the human body, endangering health.Use stainless steel tableware, should notice following contraindication:
1.Do not store too acid, too alkaline food
Stainless steel tableware should not be used for salt, soy sauce, soup, etc., also should not be used for acid juice.Because the electrolytes in these foods can interact with the metal elements in tableware in a complex electrochemical way, making the elements in them too soluble.


2.Avoid cooking Chinese herbs

Because Chinese herbal medicine composition is complex, contain a variety of alkaloid, organic acid mostly.When heated, it is easy to react with some components of stainless steel, making it less effective and possibly even more toxic.


3.Avoid using with aluminium tableware

Because of their different hardness, the latter is more vulnerable when used together;Since aluminum and iron are two metals with different chemical activity, when they use an element of food (such as salt, acid, etc.) as electrolyte, aluminum and iron can form a chemical battery, allowing more aluminum ions to enter the food.The symptoms of aluminum poisoning include mental decline, memory loss and senile dementia.


4.Avoid washing with strong alkali and strong oxidizing agents

Such as soda, soda and bleach.These strong electrolytes will also react with some components in tableware, which will erode the stainless steel tableware and cause harmful elements to disintegrate.


5.Don't cook food on fire

Because of the small thermal conductivity of stainless steel, the bottom heat dissipation slow, such as too much fire, can make the bottom charred, caking.


6.Don't buy bad stuff

Because such stainless steel tableware is made of inferior materials and rough, it contains a variety of heavy metal elements harmful to human health, especially lead, aluminum, mercury and cadmium.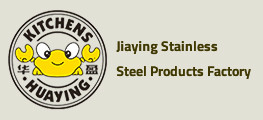 Sign up for our newsletter to stay up-to-date with our promotions, discounts, sales, and special offers.